A key factor in enabling an increase and efficiency in food production is providing farmers with relevant information. Such information is needed as farmers have limited resources (seed, water, fertilizer, pesticides, human power) and are always in doubt in which location and when they should supply these resources. Interesting is that especially smallholders, with their limited resources, are in need of this kind of information. Spatial information from Flying Sensors (drones) can be used for this. Flying Sensors offer also the opportunity to obtain information outside the visible range and can therefore detect information hidden for the human eye (Third Eye). Nowadays, low-cost sensors in the infra-red spectrum can detect crop stress about two weeks before the human eye can see this.
The Third Eye project supports farmers in Mozambique by setting up a network of Flying Sensors operators. These operators are equipped with Flying Sensors and tools to analyse the obtained imagery. Flying Sensors have been proven to provide useful information in supporting farmers. However, this project is unique as it is a first trial in a developing country to supply information on a regular base using Flying Sensors. At the end of the project (2017) we foresee that 8000 farmers will use our services, farmers' yield will be increased by at least 10%, and farmers have improved their irrigation practices.
Results
14 local Flying Sensor operators have been trained and obtained their certificate.
11 Flying Sensors are now operational.
Over 3,500 farmers receive our service, of which 71% is female.
The number of people benefitting is over 17,000.
ThirdEye's service area is over 1,600 ha.
Water productivity is increased by 55%, meaning more crop per drop.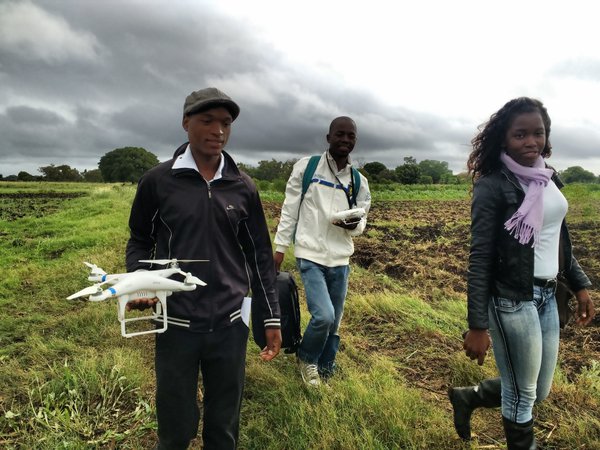 Links