How to be a commercial business, and at the same time reach out to the rural poor and enable them to increase their food production and improve their livelihoods? The key ingredient for success is getting the right business model! Agricultural Business Developer Jelle van den Akker investigated the transition of the ThirdEye project from a donor funded programme to a profitable company.
The ThirdEye project is providing crop health information with the use of Flying Sensors in Mozambique. A Flying Sensor is a drone with a high-resolution near-infrared camera that can detect crop stress. This information is key to enabling an increase and efficiency in food production. The information supports farmer's decision making regarding the use of their (limited) resources (seed, water, fertilizer, pesticides, human power). The use of Flying Sensors for precision agriculture and crop management is exploding across the world. Flying Sensors and other high-tech services supporting precision agriculture are considered the key to the future of agriculture. It is widely recognised that these technologies can play an important role in food security globally while reducing stress on the environment.
The execution of the ThirdEye project is now halfway. The project has shown promising results, Flying Sensors advice benefited approximately 2,500 households and conducted flyovers on 1000 hectares of land. The ThirdEye project is unique as it is a first trial in a developing country to supply information on a regular base to smallholder farmers using Flying Sensors. This brings along challenges in contextualising the concept in a business environment.
For this research a total of 25 interviews with farmers, the public sector, the private agro sector and development agencies, have led to the design of 11 business models. It can be concluded that the business models which have more emphasis on serving smallholder farmers generate lower revenue then models which also provide additional services to other customers, such as: land use surveying, infrastructure monitoring , digital elevation model, yield indication and topographical surveys. The new business models afford opportunity in terms of smallholder farmer inclusion and do not exclude commercial farmers, or other customers. This will also spread risk. There will always remain a trade-off between financial gain and smallholder inclusion. The models support the transition from a donor funded programme to a profitable company. When depending on funding for services to smallholder farmers the scale will be limited by funds and donor decisions. When a business model generates profit without high partner dependence, it can grow, evolve, and adapt in new markets.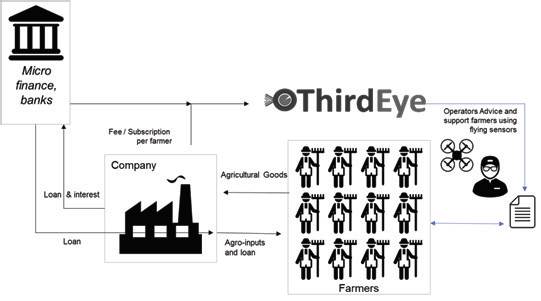 Business models with an inclusive smallholder focus are (potentially) rather complex. It is advised that: When establishing the identified models ThirdEye should guard not to oversimplify the model. It is believed that any model involving smallholder farmers should aim at also linking the farmer to other services such as agronomic advice, inputs, finance, knowledge and markets. This means strengthening existing services to smallholder farmers instead of trying to be an individual service.
This research aims to provide a good basis for further discussions, decision-making, and ultimately establishment of a sustainable company. Each identified business model can be regarded as a series of interlocking, sometimes changing, pieces of a jigsaw puzzle. This research provides the start of the puzzle but to fit the pieces together more market research, a design of an operational plan and validation is needed. This in-depth research will be done by SNV Mozambique in the coming months.